Home | Features | Download | Purchase | Screenshots | Support

Click here to
find out more
Mortgage Software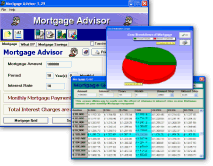 Mortgage Advisor is a powerful mortgage software program to calculate and analyze your mortgage.
Learn how to pay off your mortgage earlier and save money.
Compare different interest rates and mortgage amounts to see how they will change your repayment
View a detailed schedule of your mortgage over time
View a graphical breakdown of the cost of your mortgage.
Ability to perform "What If?" calculations on your mortgage. This means that you can calculate the mortgage amount, interest rate, period or repayment.
Click here for a full list of features



Why you need mortgage software:
You might be wondering why you need mortgage software. Below are just two examples of how Mortgage Advisor can be used to help.
Examples of how you can use Mortgage Advisor:
Scenario 1:
If you're thinking of buying a house but you don't know how much you can afford to borrow just use the "What if?" calculator. For example, you might know that the bank charges 10% interest on a 20 year mortgage. You also know that you can afford a $500 monthly payment. Enter these figures in Mortgage Advisor and you'll see that you can afford a $51,812 mortgage.
Scenario 2:
You have a $50,000 mortgage that you're paying back over 20 years at 10% interest. This means you're paying $482.52 a month. However if you know that you can afford to pay an extra $50 per month Mortgage Advisor will demonstrate that you can pay off your mortgage in just over 15 years, and at the same time save almost $18,000 in interest.
To download a fully functional 30 day trial version click here.